Editor's Note:
December 09, 2013
NELSON MANDELA
I learned that courage was not the absence of fear, but the triumph over it. The brave man is not he who does not feel afraid, but he who conquers that fear.

JERUSALEM ONLINE-Your Link to Israel
ISLAMIC DOCTRINE
How To Properly Beat Your Wife
MEMRI TV YouTube video - 03:33

GOOD NEWS FROM ISRAEL
NEW INSIGHTS ON ALLERGY AND AUTO10IMMUNE CELLS
Israeli research reveals a cellular 'tug of war' that keeps rogue white blood cells from triggering diseases such as asthma and blood disorders.
CLICK HERE to read more at Israel21C

SUPPORT UCI IN 2014
This newsletter remains a free service thanks to our financial supporters. Please consider a tax-deductible gift to UCI today! Your donation will be faithfully used to support Israel through this newsletters and other pro-Israel activities.

CLICK HERE

to make a secure PayPal donation or send your check payable to UCI to 3965 W 83rd St, 292, Shawnee Mission, KS 66208. Thanks you so very much and have a blessed Holiday Season!


---
---
Netanyahu says military option 'necessary' on Iran
Associated Free Press
Yahoo! News

, December 08, 2013
Washington - Israeli Prime Minister Benjamin Netanyahu said Sunday that a "military option" was "necessary" for the success of negotiations aimed at reining in Iran's disputed nuclear program.

Netanyahu said the Jewish state shared US President Barack Obama's "preference" to pursue diplomacy "but for diplomacy to succeed, it must be coupled with powerful sanctions and a credible military threat."

"A diplomatic solution is better than a military option but a military option is necessary for diplomacy to succeed as a powerful sanction because of the pressure," he told a forum hosted by the Saban Center for Middle East Policy at the Brookings Institution, a Washington think tank....
Click here for the complete article, or copy and paste this link into your web browser:
http://www.unitycoalitionforisrael.org/news/article.php?id=10122
---
Israel's Nuclear Doctrine Needs Reexamination
Prof. Louis René Beres
Israel National News

, December 09, 2013
...In principle, at least, Israel's strategic nuclear policy has always remained a matter of great secrecy. Nonetheless, the country's posture of deliberate nuclear ambiguity had already been breached by two of Israel's prime ministers, first, by Shimon Peres, on December 22, 1995, and later, by Ehud Olmert, on December 11, 2006. Peres, speaking to a group of Israeli newspaper and magazine editors, had said publicly: "...give me peace, and we'll give up the atom. That's the whole story." When Olmert offered very similarly general, but also revelatory remarks, they were widely interpreted as "slips of the tongue."

From the standpoint of Jerusalem and Tel-Aviv's national command authority, these apparently incautious prime-ministerial statements would already appear to have undermined Israel's security. But, an antecedent question should be raised: Is determined nuclear secrecy necessarily in the best survival interests of the Jewish State?

A fully proper answer to such an urgent and analytic query should be grounded in the expectations and exigencies of formal strategic doctrine. It should not be an off-the-cuff, or otherwise unreflective posture, invented and re-invented viscerally, or simply ad hoc, changing casually, from one crisis to the next. Above all, it should not be motivated by any wildly implausible belief in a security-enhancing Middle East "nuclear weapon free zone."...
Click here for the complete article, or copy and paste this link into your web browser:
http://www.unitycoalitionforisrael.org/news/article.php?id=10123
---
Israel in the American Bazaar
Shoshana Bryen
American Thinker

, December 06, 2013
Last week, in the context of the P5+1/Iran negotiations I wrote:

We're familiar with the rules for buying a rug in the souk. If you want the rug more than he wants the deal, you will overpay; if he wants the deal more than you want the rug, you win. But either way, money and rug will change hands. Alternatively, if you want to buy a rug and he wants to sell a camel, no matter how ardently you bargain there will be no deal. Unless you change your mind and take the camel.

The P5+1 was negotiating an end to Iran's nuclear program; Iran was negotiating the conditions under which it would continue to enrich uranium. Then the White House changed sides, agreeing with Iran on future enrichment and undermining the now P4+1.

Similarly, since Israel declared its independence in 1948, the U.S. has partnered with it to convince the regional neighbors to provide it sovereign legitimacy and the "secure and recognized boundaries free from threats or acts of war" that are the promise of UN Resolution 242. The Palestinians, on the other hand, are negotiating the establishment of an independent state without the "end of conflict, end of claims" that would be a convincing, authoritative expression of peaceful intent and adherence to Res. 242. The White House has jumped to the Palestinian side, ready to go with Palestinian independence while "Palestine" remains in a functional state of war with Israel....
Click here for the complete article, or copy and paste this link into your web browser:
http://www.unitycoalitionforisrael.org/news/article.php?id=10124
---
Arms smuggling along Syria-Jordan border triples: Jordanian official
Mohamed Al-Daameh
aawsat.net

, December 07, 2013
Jordanian border soldiers stand as the Jordanian national flag waving above them and the rainbow can be seen in the background, prior to the arrival of the Syrian refugees who will be crossing into Ruweishid, Jordan, on Thursday, Dec. 5, 2013. (AP/Mohammad Hannon)

Ruwaishid, Asharq Al-Awsat—Arms smuggling along the Syrian–Jordanian border has more than tripled since last year, according to a Jordanian Border Guard commander, Brig. Gen. Hussein Zayoud.

Earlier this week, Jordan's Armed Forces hosted a guided tour of border security facilities for Arab and international media to highlight Jordanian efforts to provide much-needed relief to Syrian refugees fleeing the conflict in the country.

Speaking during a press conference on the sidelines of the media tour, Brig. Gen. Zayoud said: "The Jordanian Border Guard's prime objective is to protect Jordan from all smuggling attempts, whether it is that of people, arms or drugs."...
Click here for the complete article, or copy and paste this link into your web browser:
http://www.unitycoalitionforisrael.org/news/article.php?id=10125
---
Rebels Consolidating Strength in Syria: The Islamic Front
Aaron Y. Zelin
Washington Institute

, December 03, 2013
The latest umbrella organization for key rebel factions in Syria may not include U.S.-designated terrorist groups, but it does oppose many U.S. objectives.
The recent merger of several Syrian rebel groups into the Islamic Front (IF) is one of the war's most important developments. Although the political and military opposition has long been fragmented, the new umbrella organization brings seven groups and their combined force of 45,000-60,000 fighters under one command. It also links the fight in the north and the south. Most notably, though, it affirms the troubles Washington will have setting policy in Syria going forward.
WHO ARE THEY?
Formally announced on November 22, the IF includes groups from three prior umbrella organizations: the Syrian Islamic Front (SIF), the Syrian Islamic Liberation Front (SILF), and the Kurdish Islamic Front (KIF). From the SIF, Harakat Ahrar al-Sham al-Islamiyya (HASI), Kataib Ansar al-Sham, and Liwa al-Haqq joined, as did the KIF as a whole and former SILF brigades Suqur al-Sham, Liwa al-Tawhid, and Jaish al-Islam. None of these groups has been designated by the U.S. government as a foreign terrorist organization.
Although these groups previously kept their individual names under the SIF and SILF, they will no longer do so under the IF, though it may take time to phase out the original names. This was confirmed the same day as the IF announcement, when SIF leader Hassan Aboud put out a directive dissolving his organization.
The IF's leadership positions have already been distributed among five of the seven groups:
Shura Council leader: Suqur al-Sham's Abu Issa al-Sheikh
Deputy Shura Council leader: Liwa al-Tawhid's Abu Amr Zaydan Hajji al-Hiraytan
Chief of the Political Office: HASI's Hassan Aboud
Chief of the Sharia Office: HASI's Abu al-Abbas al-Shami
Chief of Military Operations: Jaish al-Islam's Zahran Aloush
Secretary-General: Liwa al-Haqq's Sheikh Abu Ratib
Although HASI -- likely the largest group -- did not take the top leadership role, its control over the Political and Sharia Offices will give it important say over key issues.
The IF has also been able to gain endorsements from a variety of key local actors:
November 22: Leading Damascene cleric Sheikh Usama Rifai
November 23: Head of Syria's General Authority of Clerics, Sheikh Ahmed Najib
November 23: President of the Association of Syrian Clerics, Sheikh Mamduh Junayd
November 23: President of the Front of Clerics in Aleppo, Abdullah Muhammad Salqini
November 25: President of the Group of Clerics of the Syrian Revolution in Idlib, Abd al-Munim Zayn al-Din
November 29: Head of the Supreme Military Council (SMC), Salim Idris
These endorsements give the IF important local religious backing from each of Syria's major city centers. And Idris's congratulation was issued from a position of weakness -- his feebly Western-backed SMC has become more irrelevant since the Obama administration decided not to take action following the Assad regime's blatant use of chemical weapons in late August....
Click here for the complete article, or copy and paste this link into your web browser:
http://www.unitycoalitionforisrael.org/news/article.php?id=10121
---
Minister: Arab investments in Egypt reach $50 billion
Staff writer, Al Arabiya News
Al Arabiya News

, December 06, 2013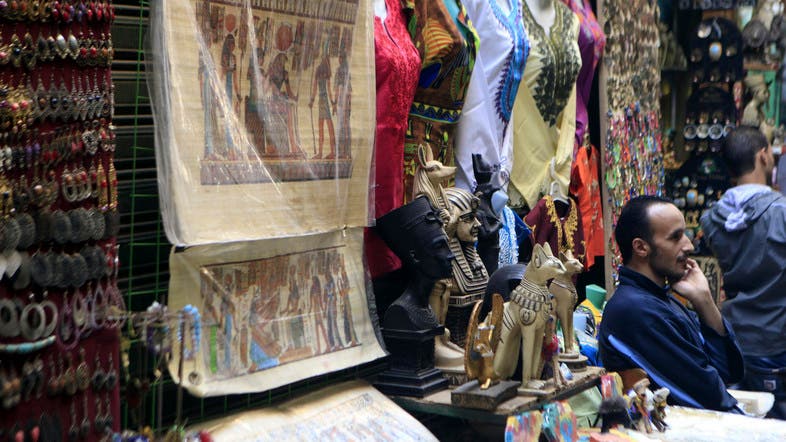 A shopkeeper waits for customers at a souvenir shop at a popular tourist area in the Khan el-Khalili market, at al-Hussein and Al-Azhar districts in old Cairo October 29, 2013. (Reuters)

Arab investments in Egypt to date have reached $50 billion, an Egyptian minister said on Thursday, adding that the government is working to improve its investment climate to attract businesspeople.

Egyptian Investment Minister Osama Saleh added that foreign, non-Arab investments equal $47 billion, as quoted by Ahram Online.

Saleh made the remarks at the end of a two-day forum held north of Cairo, which hosted businesspeople and representatives from several Gulf states in a bid to boost investment in Egypt's ailing economy....
Click here for the complete article, or copy and paste this link into your web browser:
http://www.unitycoalitionforisrael.org/news/article.php?id=10126
---
Theresa May to 'address gaps' in anti-extremism powers
BBC

, December 04, 2013
Home Secretary Theresa May has promised to "address the gaps" in the government's response to extremism.

Among a series of measures, she said Muslim chaplains would be trained to challenge extremist Islamic views on university campuses.

Mrs. May also said the government was looking at new orders to ban radical groups and would work with internet providers to screen extremist content.

A taskforce on extremism was set up after the killing of soldier Lee Rigby.

Michael Adebolajo, 28, and Michael Adebowale, 22, currently on trial at the Old Bailey, deny murdering the Fusilier in Woolwich, south-east London, on 22 May....
Click here for the complete article, or copy and paste this link into your web browser:
http://www.unitycoalitionforisrael.org/news/article.php?id=10127
---
Highway Work Uncovers 900-Year-Old Fountain in Garden
Jewish Press Staff
The Jewish Press

, December 08, 2013
Fountain and plumblng, lower left, and remains of 900-year-old home in Old Ramle. (Photo Credit: Assaf Peretz, courtesy of Israel Antiquities Authority)

Construction of a modern highway once again has exposed an ancient site, this time a 900-year-old fountain in a garden, the first time a fountain has been discovered outside the known wealthier districts of Old Ramle.

The excavations by the Israel Antiquities Authority were carried out at the entrance to Ramle, in an area where a bridge is slated to be constructed as part of the new Highway 44 that will pass over railroad tracks and relieve drivers from a bottle neck and very long delays during rush hours....
Click here for the complete article, or copy and paste this link into your web browser:
http://www.unitycoalitionforisrael.org/news/article.php?id=10128
---
Please support Today's News Summaries, our URGENT ACTION ALERTS, MEDIA ALERTS, and other projects with your tax-deductible donation. Click here to donate


We encourage you to forward our newsletters to your friends and other interested individuals and organizations.

Click here to use our newsletter forwarding system
---
UCI's website and emails are written to current web standards according to the W3C. If your browser or email client is not standards-compliant, you can go here for one that is.